Evening Talks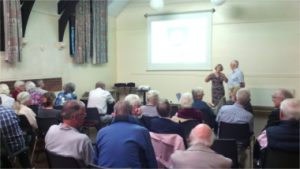 Talks are held at 8.00 pm in St Mary's Parish Rooms, Museum Street, Saffron Walden.
members £1: guests welcome, £3: young people under 16 free.
---
Programme for 2017
---
Friday, 8th September
8.00 pm  – AGM of Saffron Walden Museum
Society Limited in the Museum.
Refreshments available from 7.30 pm
Monday, 11th September:
The Ice Age in Essex and beyond 
Speaker; Gerald Lucy, Fossil expert and author of "Essex Rocks"
About 450,000 years ago, in the middle of the Ice Age, almost the whole of Britain was buried beneath a giant ice sheet, in places over a mile thick.  This was the coldest period of what we call the 'Ice Age', a remarkable period of the Earth's recent history.  Gerald Lucy will give an illustrated talk on the Ice Age in Britain and in Essex, and how it consisted of not just cold stages but also warm periods, some of which saw hippos wallowing in Essex rivers!
Monday, 9th October:
"The Lost Heroes of Bletchley Park or How Bill Tutte Won the War!"
Speaker:  Richard Fletcher
Monday, 13th November:
Oliver Cromwell
Speaker: John Davies, from the Cromwell Museum at Huntingdon
Monday, 11th December:
Christmas Social
---
Talks and Visits from earlier in 2017
---
9th January
The Place Names of Saffron Walden
Malcolm White, Local Historian and former Town Clerk, will give an illustrated talk on the place names of Saffron Walden, and how they reflect the shape, occupations, size, origins, and personalities of the town.
Monday, 13th February:
Printed Maps of Essex, 1576 to 1947: The Good, the Bad and the Downright Ugly
Peter Walker
Map collector, historian and author
---
Monday, 13th March:
Dressing Up: British portraits of the 18th century
Hugh Belsey
Lecturer and former Curator of Gainsborough's House in Sudbury
 Monday, 10th April: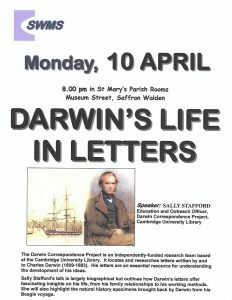 Monday, 8th May:
Monday, 12th June:
---
---
Other Events run by the Museum Service
As well as the events that are run by the Museum Society, the Museum Service runs events especially during half term and summer school holidays. A full Listing can be found on the Museum Events page
Current Exhibition
28 January – 30 July 2017
Completing the Look
–  explores the history of fashion accessories from the Georgian period up to the present day. Displaying beautiful hats, shoes, jewelery, scarves, gloves and much more, the exhibition tells the story of how men and women have used accessories to show off their social status, attract a partner, make an artistic statement or, simply, complete their look.
See the Current Exhibition page