Recent Acquisitions of local items
Silver medieval buckle from Felsted, tiny but beautifully cast and decorated
Stuffed fox eating a grey partridge, mounted by Saffron Walden taxidermist Joseph Travis in the 19th century
Tudor Finger Ring
A tiny (14 x 12 mm) detailed silver badge of St George dated to 15th century from Takeley.
Home made dress from the 1950s
A penannular gold ring banded with silver, 18mm across, dating to around 1020-800 BC. The find-spot was Takeley.
Medieval Buckle plate from Thaxted
Viking Ring from Thaxted. See more information about this find on this Link
Moorcroft "Saffron Gold" vase
A recent addition to the museum collection has been this Moorcroft vase which has been produced to celebrate 35 years of Hugh and Maureen Edwards of Thaxted having stewardship of Moorcroft Pottery, one of England's oldest Arts and Crafts potteries.
It is decorated with the distinctive Saffron Crocus (Crocus Sativus)
This one has kindly been purchased for the collections by the Museum Society to go on display in the Museum in loving memory of Gillian Ram, a loyal dedicated volunteer at the museum & member of the Museum Society.
Pictured left to right are Dave Johnson, Moorcroft Sales Director; Gillian's husband, Dr. Ronald Ram, Paul Salvidge, a director of the Museum Society and Judith Thompson from the Tourist Information Centre, with the vase on display in the museum's ceramics gallery.
Bronze Age bracelets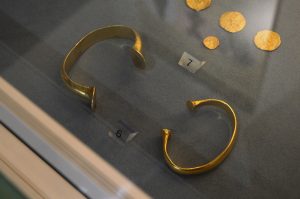 This pair of solid gold bracelets, found in North-west Essex are nearly 3,000 years old. They date from the late Bronze Age, around 900 – 750 AD and seem to have been deliberately buried on their own. The Museum purchased them through the Treasure Act thanks to the generous support of the Arts Council England / V&A Purchase Grant Fund, Art Fund, the Beecroft Bequest and two local donors and they are now on public display in the museum, having been publicised as Object of the Month in July 2021.
Two members of Creative Walden's Writers' Room are pictured modelling the Bronze Age bling!
The funding for new acquisitions comes from a variety of sources which include grants, but most importantly from Donations.
If you would like to support the acquisition of more items of local interest, please download a
(requires Adobe Reader)