Events at The Museum
Evening Talks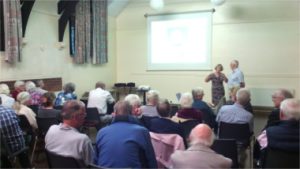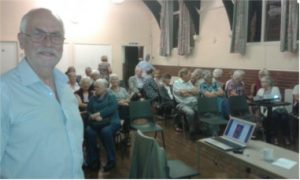 Talks are held at 8.00 pm in St Mary's Parish Rooms, Museum Street, Saffron Walden.
members £1: guests welcome, £3: young people under 16 free.
---
Programme for 2018
---
10 September
Worlds under Glass-Adventures in Taxidermy-
Speaker; Charlotte Pratt,  Saffron Walden Museum
8 October
The Queen of Chardonnay-Exciting Archeology at Chesterford-
Speaker; Jacqui Hutton,  Network Archeology
12 November
To Be Arranged
---
Talks and Visits from earlier in 2018
---
Monday, 8th January
The buildings of the Palace of Westminster
Speaker: The Right Hon. Sir Alan Haselhurst
Monday, 12th February
20 Treasures from Saffron Walden Museum
Speaker: Carolyn Wingfield,
Curator of Saffron Walden Museum
An exploration of how the Treasure Act 1996 has added to the district's archaeology collections, with a focus on some of the special finds acquired by the Museum over the past 20 years.

Monday, 9th April
The History of the Friends' School
Speaker: Tony Watson, Chairman of Saffron Walden Museum Society
14 May
Ouse Fen: Building Britain's Biggest Reedbed
Richard Taylor -Assistant Warden RSPB Ouse Washes
11 June
Happy Birthday to George Stacey Gibson – Aspects of his life and achievements
Jeremy Collingwood, Sarah Kenyon and Len Pole
---
Other Events run by the Museum Service
As well as the events that are run by the Museum Society, the Museum Service runs events especially during half term and summer school holidays. A full Listing can be found on the Museum Events page
Exhibition
From the Hazely Brick Earth:
Agriculture in North-West Essex
27 January 2018 – 29 July 2018
A look at rural life and trades in north-west Essex from the past to the present.
"Hazely Brick Earth" is an old Essex dialect term for the rich soil found in Essex. This soil has provided livelihoods for Essex people through agriculture and rural trades for centuries. This exhibition will explore how agriculture and rural trade has changed, or continued in its traditions, from the past to the present day.
Through photographs and objects from the museum's social history collection, the exhibition will explore the importance of rural trades, such as thatching, malting, crop production and animal husbandry, to this north-west corner of Essex. Alongside this, contemporary photographs and stories from our local community will illustrate how things differ today.
If you work in agriculture or a rural trade in north-west Essex and you would like to be involved in the exhibition, please contact Leah on 01799 510645 or email lmellors@uttlesford.gov.uk
See the Current Exhibition page