Evening Talks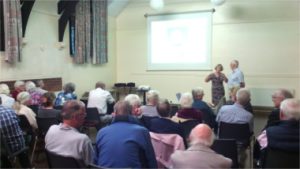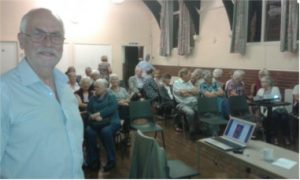 Talks are held at 8.00 pm in St Mary's Parish Rooms, Museum Street, Saffron Walden.
members £1: guests welcome, £3: young people under 16 free.
---
Programme for 2019
---
14 January
Cambridge Science Festival- 25 Years of engaging the Public with Science.
Speaker : Dr Lucinda Spokes
11 February
DNA, Surnames and Genealogy
Speaker: Mark Carroll
11 March
The University Museum of Zoology Cambridge-Past, Present and Future.
Speakers ; Dr Roz Wade and Matt Lowe
8 April
Essex Diary-the wildlife of Essex through the year.
Speaker : Liz Huxley
13 May
The Woman Who Saved the Children; the remarkable story of Eglantyne Jebb.
Speaker : Clare Mulley
10 June
The Georgian Papers
Speaker : Professor Arthur Burns
9 September
Taking away the Walls.
Speaker : James Lumbard Saffron Walden Museum
14 October
to be confirmed
11 November
The Battle of Rorke's Drift
Speaker : Paul Fairhurst
---
Talks and Visits from earlier in 2018
---
Monday, 8th January
The buildings of the Palace of Westminster
Speaker: The Right Hon. Sir Alan Haselhurst
Monday, 12th February
20 Treasures from Saffron Walden Museum
Speaker: Carolyn Wingfield,
Curator of Saffron Walden Museum
An exploration of how the Treasure Act 1996 has added to the district's archaeology collections, with a focus on some of the special finds acquired by the Museum over the past 20 years.

Monday, 9th April
The History of the Friends' School
Speaker: Tony Watson, Chairman of Saffron Walden Museum Society
The Friends School has played an important role in the life of Saffron Walden and Tony Watson is well placed to tell us of the history as he experienced it as a pupil, and then as a Governor
14 May
Ouse Fen: Building Britain's Biggest Reedbed
Richard Taylor -Assistant Warden RSPB Ouse Washes
Reedbeds and the specialised animals and plants that inhabit them were once a
major component of the fenland landscape. Richard Taylor's talk will explain how
a partnership between the RSPB and Hanson Aggregates is creating a home for
bitterns, marsh harriers, bearded tits and other species, that will last for generations.
11 June
Happy Birthday to George Stacey Gibson – Aspects of his life and achievements
Jeremy Collingwood, Sarah Kenyon and Len Pole
Born 200 years ago, George Stacey Gibson had and still has a major
impact on Saffron Walden. Our speakers will be telling us about his life,
his contribution to the establishment and development of the Museum
and his work on natural history and geology.
10 September
Worlds under Glass-Adventures in Taxidermy-
Explore the controversial history of taxidermy; from its beginnings in
Wonderkammer to use in fashion, interiors, art and scientific discovery.
Discover secrets of the taxidermist's art through a discussion of
techniques, process and the taxidermists who used them.
Speaker; Charlotte Pratt,  Saffron Walden Museum, Learning and Outreach Officer and Curator of 'Worlds Under Glass' Exhibition at Saffron Walden Museum
8 October
The Queen of Chardonnay  –  Exciting Archeology at Chesterford
Speaker; Jacqui Hutton,  Network Archeology
Excavations on the site of the new crematorium at Chesterford reveal a fascinating history of how our ancestors have made use of it over thousands of years. Jacqui Hutton led the excavations and will reveal the latest secrets of the site.
12 November
Tumult and Tears; The Story of the Great War through the Eyes and Lives of its Women Poets.
Speaker: Vivien Newman
This talk examines the poetry written by both serving and civilian women. This treasure trove of neglected poetry takes us to the heart of the Great War as seen through the eyes and lives of its women poets.
---
Other Events run by the Museum Service
As well as the events that are run by the Museum Society, the Museum Service runs events especially during half term and summer school holidays. A full Listing can be found on the Museum Events page
Exhibition
See the Current Exhibition page