Evening Talks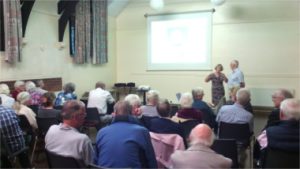 Live Evening Talks are currently suspended in view of the spread of Covid in the district, we hope that it may be possible to hold future planned talks  from May. The situation is under continuous review and updates will be posted here in due course.
Talks are  held at 8.00 pm in St Mary's Parish Rooms, Museum Street, Saffron Walden .
members £1: guests welcome, £3: young people under 16 free.
Please Note: entry by Cash at the door, we have no facilities for taking electronic payments.
---
Programme of Talks for 2022
Monday 13 June
Thaxted -A Late Medieval Commercial Town – Speaker; Richard Till
Monday 12 September
"From the "Smoke" to the Coast,
Firefighting in London and Essex During the Two World Wars – by Mick Ford
[ Postponed from May]
Monday 10 October
Cooking with Saffron –  by Samantha Bilton
Monday 14 November
Roman Life- Gladiators –  by  Richard Bale
---
Previous talks
Monday 9 May 2022
The Saffron Walden Museum Society 1958-2008 –  Speaker; Tony Watson
13 January 2020
The Essex Regiment during World War One.
Speaker: Peter Layzell
The Essex Regiment provided some 30 battalions to the British army in World War 1 and saw action in the Somme, Gallipoli, Egypt, and Palestine. Peter Layzell has made a long study of the Regiment's achievements.
This talk by the manager of the Essex Regiment Family History Website is drawn from testimonies and newspaper accounts following the Regiment through the Great War including the soldiers daily routine, trench life and medical treatment.
10 February 2020
On Portraiture.
Speaker: Benjamin Sullivan
Our speaker is one of this country's leading portrait painters. He will be talking about his work in the context of 20th century portraiture.
His work is to be found in numerous public and private collections, including the National Portrait Gallery, the Royal Scottish Academy, Parliament House, Edinburgh, and several Oxford and Cambridge Colleges.
9 March 2020
1,568 Sawdust Hearts
Speaker  Tracey Fernandes
Soldiers wounded in the 1st World War were encouraged to decorate heart shaped bags filled with sawdust as a therapy. In 2018, a project to mark the centenary of that war was launched to provide one heart for each day of the War-hence 1568 Sawdust Hearts. 20 of these were made by volunteers in and around Saffron Walden and are now on display in the Museum. The speaker will tell us the full story.
---
Other Events run by the Museum Service
As well as the events that are run by the Museum Society, the Museum Service runs events especially during half term and summer school holidays. A full Listing can be found on the Museum Events page
Exhibition
See the Current Exhibition page