Evening Talks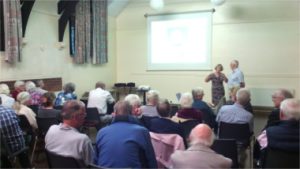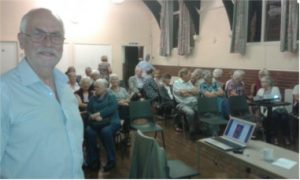 Talks are held at 8.00 pm in St Mary's Parish Rooms, Museum Street, Saffron Walden.
members £1: guests welcome, £3: young people under 16 free.
---
Programme for 2019
---
11 February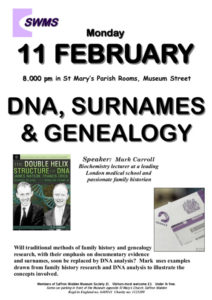 DNA, Surnames and Genealogy
Speaker: Mark Carroll
Biochemistry lecturer at a leading London medical school and passionate family historian
Will traditional methods of family history and genealogy research, with their emphasis on documentary evidence and surnames,soon be replaced by DNA analysis? Mark uses examples drawn from family history research and DNA analysis to illustrate the concepts involved.
11 March
The University Museum of Zoology Cambridge-Past, Present and Future.
Speakers ; Dr Roz Wade and Matt Lowe
8 April
Essex Diary-the wildlife of Essex through the year.
Speaker : Liz Huxley
13 May
10 June
The Georgian Papers
Speaker : Professor Arthur Burns
9 September
Taking away the Walls.
Speaker : James Lumbard Saffron Walden Museum
14 October
to be confirmed
11 November
The Battle of Rorke's Drift
Speaker : Paul Fairhurst
---
Talks and Visits from earlier in 2019
---
14 January
Cambridge Science Festival- 25 Years of engaging the Public with Science.
Speaker : Dr Lucinda Spokes
Dr Stokes will describe the role and development of this, the UK's largest free science festival showcasing over 250 events in March 2019. Cambridge University researchers and students will open their laboratories and lecture halls holding talks exhibitions and demonstrations for over 30,000 visitors.
---
Other Events run by the Museum Service
As well as the events that are run by the Museum Society, the Museum Service runs events especially during half term and summer school holidays. A full Listing can be found on the Museum Events page
Exhibition
See the Current Exhibition page